A wedding is surely a mega day in someone's life. It's a day full of love, care, happiness, excitement, and obviously, nervousness. The day demands some specialty. It must be celebrated uniquely so you can remember this throughout your life. Nowadays, theme weddings are on a big trend. The imaginary themes make the couple excited for their big day. So a venue must be according to the desired and imaginary theme.
DUBAI – A REALITY TO YOUR FAIRYTALE IMAGINATIVE WEDDING!
Home to the high-priced lifestyle, Dubai presents abundant opportunities for couples to have a good time on their unique day in an exceptional manner. From the charms of Burj Al Khalifa to the sector-elegance cuisines that cater to actual cuisine from all over the international, Dubai will make you and your beloved end up like a "king and queen" on your wedding day.
According to the trends, the banquet halls or indoor venues seem to be odd and boring. A wedding under the sky, close to nature with a feel of the breeze and stunning vibes is so popular. So why not take your dream theme outside under the bright sky? Dubai has a handful of outdoor venues that are all unmatchable. From green gardens to resorts in dazzling desserts and from sandy beaches to the middle of the sea with blue water, Dubai has magical and astonishing venues that will surprise you to your extent. Feel the vibes and enjoy your blessed day.
OUTDOOR WEDDING VENUES IN DUBAI – MAKE THE NATURE A TRUE WITNESS OF YOUR LOVE!
Here are some perfect outdoor wedding venues in Dubai that will surely add value to your ideal wedding. All the places are lavish enough to give you a royal feel.
1.  GARDEN WEDDING VENUES AND CLUBS
●     ONE AND ONLY ROYAL MIRAGE – FOR A ROYAL WEDDING
For sure, it's Dubai wedding scenes that make fantasy reality.
One and only royal Mirage is an ideal location for a euphoric function that accepts the magnificence of nature in a city like Dubai. This place is one of the perfect wedding venues in Dubai. The famous imperial retreat has everything that gives your wedding a royal feel and touch. From charming nurseries with the structurally grand hotel as a foundation, regal dance hall, and shining gem crystal fixtures for meal and gathering, the place is simply lavish and astonishing.
Conjuring the magic of Arabia, this mirage is beautifully maintained. It's like a domain where your guests can wander against the abundant gardens or stroll between the amazing water features.
ADDRESS: King Salman Bin Abdulaziz Al Saud St – Dubai – United Arab Emirates

CAPACITY: Up to 500 guests

CONTACT: +971 4 399 9999
●     SOFITEL THE PALM – A WEDDING IN LUSH GREEN FAIRWAYS
"Start the journey of your life with elegance and luxury"
Having marvelous fairways, Sofitel The Palm is a perfect destination for an imaginative wedding. A perfect sitting place in a garden with lush greenery will look so stunning and surely add value and charm to your wedding.
The perfect award-winning cuisine, yummiest wedding cakes, the decoration and elegance of the place will satisfy your taste. Incredible food & beverage options and magnificent poolside views will let your guests feel comfortable and they will remember your wedding forever.
The perfect scenery and décor will make your photographs full-loving and lavish. And if you want a destination wedding, the resort will provide you and your guests a perfect accommodation. Having entire top-notch facilities and amazing scenery, this Sofitel the Palm is a perfect outdoor venue in Dubai.
ADDRESS: Palm Jumeirah – East Crescent Road – Dubai

CAPACITY: Up to 200 guests

CONTACT: +971 44555692
●     THE FARM – WEDDING IN TRANQUIL SERENITY
A paradise in Al Barari, The Farm Dubai is a stunning place for small weddings. If you don't want too much hustle, just take a few close friends and throw a surprising wedding at this heaven. The place is simply extremely gorgeous.
Complete with winding roads and natural greenery, it's perfectly a hidden gem. Its marvelous and stunning aesthetic vibes make this place one of the most stunning outdoor wedding venues in Dubai.
The main venue boasts a perfect design in charming white color. The area around the marvelous architecture is stunning green. The sitting arrangement along a flowing stream and beautiful pond give you a feel of a fairytale. Not in words but in reality, it truly seems a part of heaven.
Surrounded by streams, trees, flowers, and natural feels, the place will make your wedding most lavish providing you magical vibes.
ADDRESS: Al Barari – Dubai – United Arab Emirates

CAPACITY: Up to 25 guests

CONTACT: +971 56 174 1208 OR +971 4 392 5660
2.  DESERT WEDDING VENUES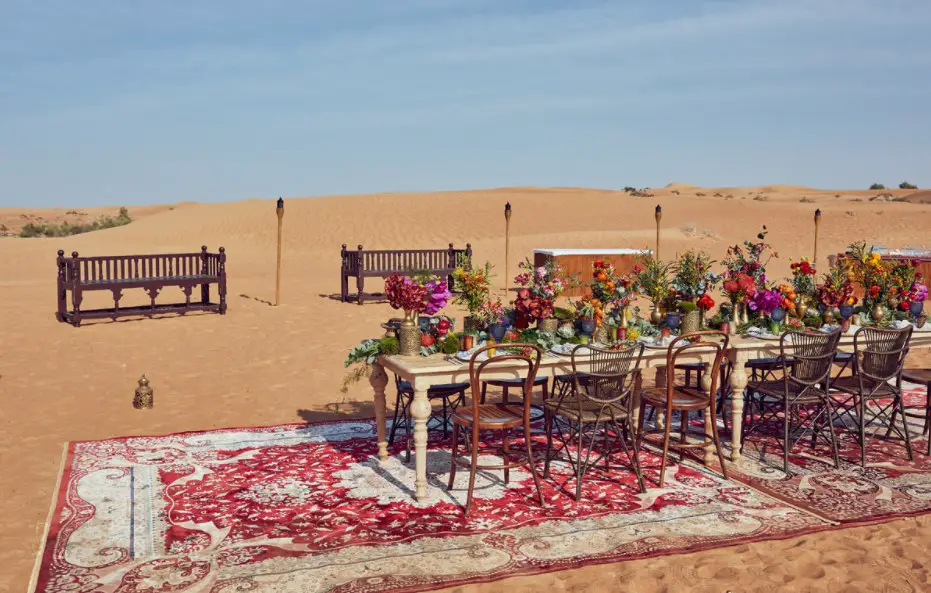 ●     AL MAHA RESORT
Al Maha, a Luxury Collection Desert Resort and Spa in Dubai is a private, guest-best oasis nestled among the lush palm groves, emerald canopies, and iconic dunes of the Dubai Desert Conservation Reserve. The hotel gives secluded tranquility and iconic vistas of the sweeping plains and Hajar Mountain massif.
In the hush of the Dubai Desert, the Al Maha Luxury Collection Desert Resort and Spa is an inspired choice in your wedding ceremony celebration. Set in a verdant oasis deep in the desert, the forty- elegantly supplied Suites cater to the discerning vacationers who are seeking a proper Arabian cultural experience and incomparable stages of the provider. Al Maha gives the entirety you dreamt of on your special day.
Full of monarchic, Al Maha Desert provides a thriller venue with blue sky and alluring hues of golden sand. The dunes give a perfect picture at sunset and make your wedding ceremony vibrant and imaginary.
The perfect aromatic menu, sitting arrangements in the golden and alluring sand hues, and amazing activities and amenities for the guests make this attractive among all. All these features add value to your wedding and make this resort one of the splendid outdoor wedding venues in Dubai.
ADDRESS: Dubai Desert Conservation Reserve Dubai – Al Ain Road Dubai – United Arab Emirates

CAPACITY: Up to 300 guests

CONTACT: +971 4 832 9900
●     BAB AL SHAMS
Come and feel pure bliss at Bab Al Shams Desert Resort & Spa, designed to make certain that your special day is magical. Surrounded by some dunes, this place is a perfect outdoor venue in Dubai. Among these dunes, this magical place will make your dream wedding perfect and unique.
And not only one, but this astonishing place also offers you a variety of venues in one place. So come up with any desired theme, have a perfect sitting area in the desert, and let the dazzling red dunes make your time perfect and marvelous.
ADDRESS: Al Qudra Road, Opposite Endurance City– Dubai – United Arab Emirates

CAPACITY: Up to 35 guests

CONTACT: +971 4 809 6100
3.  TIE THE KNOT IN THE MIDDLE OF THE SEA – WEDDING ON A YACHT
●     LOTUS MEGA YACHT – BREEZING WEDDING ON A LUXURY YACHT
Perfectly crafted to take your weddings in the middle of the sea, Lotus mega yacht is the most wanted outdoor wedding venue in Dubai. Providing you with a classy feel, this mega yacht gives a unique wedding experience. Your perfect customized theme, cool breeze, blue sky, dazzling sun, blue waters, and magnificent board slowly moving in top places of Dubai, isn't romantic?
With a perfect size of 220 FT, this megayacht will give reality to your dream wedding. The crew, customized buffet, and the lavish architecture boat, all make your wedding unreal and aesthetic. So have a unique experience with this lovely outdoor wedding venue in Dubai.
ADDRESS: Office No: 124 ARJ Building Sheikh Zayed Rd – Dubai.

CAPACITY: Up to 400 guests

CONTACT: +971  56 1157422
●     DESERT ROSE YACHT – A WEDDING YOU ALWAYS DREAM OF!
Another perfect unmatchable yacht in Dubai that is also a perfect outdoor wedding in Dubai is the Desert Rose yacht. If the royal feel had a face, that would perfectly be this amazing Desert Rose yacht. Allowing small weddings, this yacht takes your dreams to the middle of the sea to flourish them with realness. Providing you with classy spots in Dubai, the yacht has all the perfect services and facilities that could be available at any wedding venue.
So feel the aesthetic vibes and plan your yacht wedding at this royal Desert Rose yacht.
ADDRESS: Office No: 124 ARJ Building Sheikh Zayed Rd – Dubai.

CAPACITY: Up to 200 guests

CONTACT: +971  56 1157422
4.  SEASIDE & SUNSET WEDDING VENUES
●     BURJ AL ARAB JUMEIRAH – A REGAL WEDDING
At the most iconic resort in Dubai, recognized for its 7-superstar stature, any wedding dream can be a reality. The tremendous venue vows to craft you a brilliant wedding at their out of doors venues. You can celebrate intimate yet active henna nighttime at one in every one of their global-class restaurants and say the sacred vows at the lush Palm Garden that overlooks wonderful perspectives of Pearl Jumeirah. Before the lavish solemnization, arrive impressively with the mythical Rolls Royce, custom-made for Burj Al Arab.
The after-wedding remains with your beloved can be romantic moments you'll cherish forever as nicely. Arise your senses of romance with a romantic private dinner underneath the stars and relax in love in a private infinity pool beneath the moonlight. With their first-rate provider and planners, your wildest romantic dream will continually come proper at one of the first-rate Dubai wedding ceremony venues.
ADDRESS: Jumeirah St – Dubai – United Arab Emirates

CAPACITY: Up to 1000 guests

CONTACT: +971 4 301 7163
●     PALACE DOWNTOWN – WEDDING WITH DUBAI'S SCRAPERS BACKGROUND
The Palace Downtown offers what Dubai is understood for; the charming town perspectives as the backdrop of your wedding. Its terrace is perfect for an intimate wedding under the celebs. Within its partitions, several global-magnificence eating places like Thiptara, Asado, and Edwaan will make you spoilt for preference as everyone gives its types of royal dinners. At its remaining attraction, guests will enjoy delectable feasts at the same time as admiring the beautiful perspectives of Burj Al Khalifa and the sector's largest fountain, the Dubai Fountain.
The evening weddings will get a perfect sunset view. That elegance, feel and stunning vibes will not only make your event lavish and magical but also be a perfect spot for endless photographs. The sunset view feature makes this rooftop palace a classy outdoor venue in Dubai.
ADDRESS: Sheikh Mohammed Bin Rashed Boulevard, Downtown Dubai, P.O Box 9770

CAPACITY: Up to 120 guests

CONTACT: +971 4 428 7888
5.  BEACH WEDDING IN DUBAI – TIE THE KNOTS AT SANDY BEACHES
●     NIKKI BEACH RESORT & SPA
Set the beach wedding at Nikki Beach Resort & Spa that boasts a magical seashore wedding ceremony alongside enjoyable yet highly-priced lodging to live at. Considered favorite outdoor wedding venues in Dubai, the seaside venue has the whole thing couples likely dream about. After pronouncing "I do" at the powdery sands, let your visitors eat splendid present-day cuisines at the seashore living room while you're taking in great pix possibilities at its seashore.
Afterward, jumpstart for the great and relaxing honeymoon any couple could dream of. For that reason, Nikki Beach Resort & Spa boasts 15 extremely deluxe villas that have the exclusive right of entry to personal patios and terraces with a private pool and eating region. Indeed, it's an ideal area to begin a new existence with your partner-to-be.
ADDRESS: Palm Jumeirah – Dubai – United Arab Emirates, 8286

CAPACITY: Up to 500 guests

CONTACT: +971 4 376 6000
THE BOTTOM LINE
Having a variety of wedding venues in a city like Dubai is not difficult. But choosing one of your choices is hard. You dream of a venue like a majestically fairytale wedding. These venues are just a little glimpse of the outclassed outdoor wedding venues in Dubai. Surely there is still much more. Choose where you feel your dream theme and activities could be done and just go for it. Weddings are the best and blessed day for everyone. Feel every second of your special day with any of these lavish and mesmerizing venues.
Smith Jason is an expeditious traveler. His passion for travelling and adventures led him to write blogs about his experiences. Having traveled to UAE, Malaysia, Thailand and more destinations, he has got a lot of exciting stories to share with readers.