It won't be wrong to say that Dubai has set Global Standards in terms of its development. The word 'skyscrapers' pops up in mind when someone thinks about Dubai which is also one of the main reasons for worldwide idolization and salability of Dubai. All we can say is that Dubai never fails to impress.
The alluring scenery of Dubai leaves everyone appalled and awestruck. A treat for eyes. The universality of Dubai is the preeminent reason that Dubai has been stated as a hub for tourism. People from all over the world love to spend their vacations in Dubai with their loved ones. Also, the most idiosyncratic and love-able fact about Dubai is that it is an amalgam of different traditions and cultures. You can experience living with people from all over the world in this single yet beguiling state.
All these factors have set a benchmark that no other state has been able to achieve yet. With the aim of expanding its salability, and setting a higher benchmark, many mega projects are in the pipeline. You will be bewildered to know about these megaprojects. Dubai surely is a city that keeps itself on the track of development and out-of-the-box projects. So, if you are keen to know about these upcoming projects in Dubai, you should stay with us till the end of this article.
A Project Incentivized By Arabian Deserts
Firstly, the mega project that we have on our list is a project that is incentivized by Arabian Deserts. You must be intrigued to know its name, right? It is named Burj Jumeirah. We already know about the gigantic skyscrapers of Dubai, and guess what? Burj Jumeirah is going to be a part of that list by 2023 – 2025. Its height is supposed to be at least 1800 ft which means you just have to hold your breath until the completion of this implausible and dubious project.
The architect of this skyscraper will reflect the traditional sand dunes and oasis of Dubai. It will have a various number of observation decks and that too at unbelievable heights which means the visitors will get to experience prepossessing sightseeing of Dubai's alluring scenery. In addition to that, there will be various restaurants, shops, and cinemas for the entertainment of visitors in its surroundings.
The Largest Outdoor-Indoor Mall
Secondly, the upcoming project that we have onboard is the Mall of the World. As the name suggests, this mall will be the largest and the massive one in this whole world. This mall has been divided into four phases, and phase one is expected to get completed by the end of 2021. However, the exact date is yet to be announced. The idiosyncratic highlight of this mall is the development of a theme-based indoor park.
This consummate indoor theme-based park will be covered with a peerless glass dome. The envision of this project is to create an air-conditioned pedestrians city. So that, visitors will get every leisure and necessity at this gigantic mall that they can get in a city. Sounds amazing, right? The location of this monumental mall is designated to be in Al Sufouh, Palm Jumeirah, Dubai. In addition to the envision of a theme-based park, and pedestrian city, there will be hospitality and Dubai cultural districts for the leisure and joviality of visitors.
Cost: The cost for this mega project is $20 Billion.
Bringing The Ethereal Beauty of Europe to Dubai
The third project is based upon the proposition of bringing the ethereal beauty of Europe to the Arabian Gulf. Thus, the project is designated as The Heart of Europe. This proposition will be achieved by creating six different islands in Dubai. Yes, you read that right. Six different islands, each of whom will be based upon the theme of a specific European country. Isn't that incredible? The details of each Island will be synchronized in such a way that visitors will feel as if they are residing in that European country, and not in Dubai.
This mega project is expected to be completed in 2023. For entertainment purposes, there will be sumptuous and peerless hotels, high-end restaurants, and grandeur residences. These islands will be stationed on Worlds Islands in Dubai. These islands will be an exemplary destination for holidays or mini-getaways. Visitors will get to experience and amuse themselves with European culture.
Cost: This mega project will cost the developers, 5 billion dollars.
The World's Most Sky-High Tower in Dubai
Fourthly, the quintessential project on our list is the development of the world's most sky-high tower in Dubai, named Dubai Creek tower because it will be stationed in Dubai Creek Harbor. Initially, the designation for this bewildering architectural project was supposed to be 'The Tower' which later on, got fabricated into Dubai Creek Tower. It will be among the number one temptations for tourists in Dubai.
The development of this project will be completed in 2022 which means you will get to cherish its beguiling beauty very soon. This tower will cross the architectural worth of Burj Khalifa as it will be 100 meters taller than Burj Khalifa. There will be observation decks for sightseeing of Dubai's prepossessing landscape. The tower will be luminous at night which means that the Dubai Creek will be gleaming with bright lights. Such a fascinating sight it would be, right?
Cost: The staggering cost for this enthralling project is $1 billion.
A Family-Friendly Beach Destination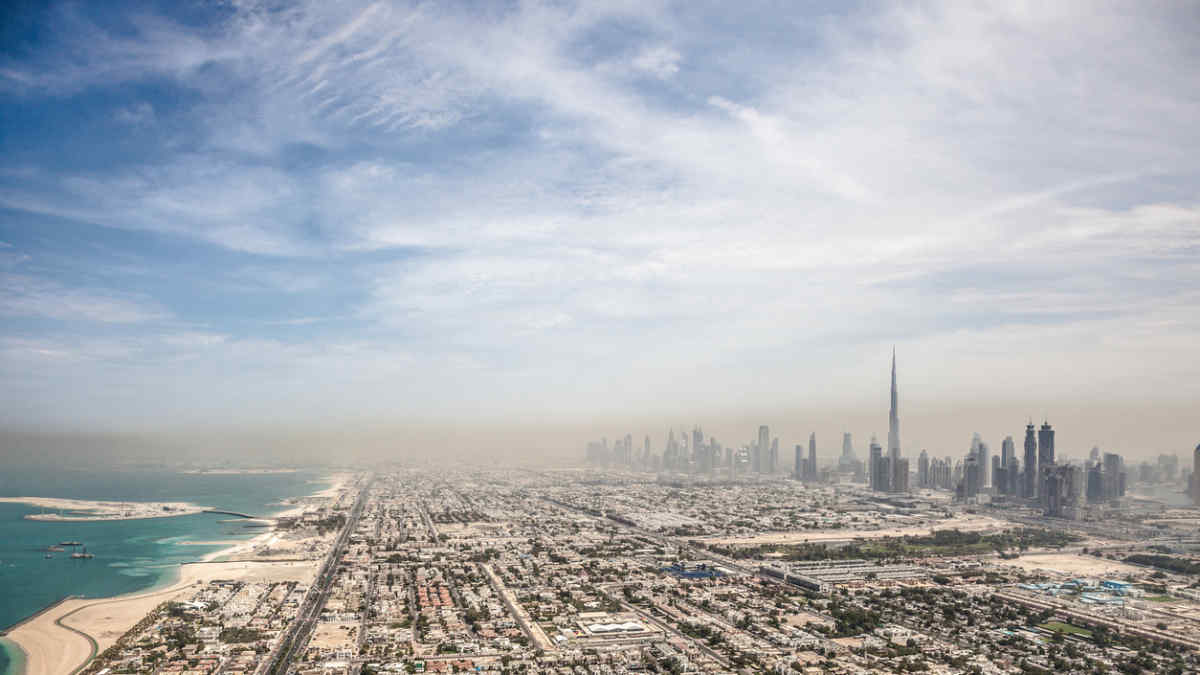 Fifthly, we have a family-friendly beach destination on our list named Sunset Promenade. The purpose of these megaprojects is the creation of a family-friendly beachfront. It will be connected to Jumeirah Beach, beside the Dubai Water Canal. The ingenious plan behind this project includes an amalgamation of modernism with green sandy hills.
The project is expected to be consummated in 2023. The total area which this project will comprise is 190,000 square meters. Sunset Promenade will be a destination for amusement, specifically for families which is a great thing as you will get to spend quality time with your loved ones at this stunning and exquisite beach.
Cost: The estimated cost for this project is $50 million.
A Project That'll Convert Impossibilities into Possibilities
Sixthly, we have a project that will convert the impossible into the possible with its lavish and extraordinary architecture, named Royal Atlantis Resort and Residencies. The manufacturers say that they will redefine the concept of lavishness and sumptuousness with this mega project. This project will be the epitome of perfection for nightlife in Dubai. The world's leading and foremost designers and architects have designed this incredible project. The most complex and intricate part of its design will be a spa bridge that will connect the architectural aspects of this gigantic infrastructure.
The residential suites and extravagant hotel rooms will leave you awestruck and beguiling. This property will include more than 90 pools along with an infinity pool, limitless entertainment options, and attractions, extravagant dining options, and a private beach with captivating, and enchanting beauty. In addition to all these luxuries, the visitors will treat their eyes to the tempting and tantalizing skyline beauty of Dubai.
This project will be completed in 2022. The most intriguing fact about this project is the extraordinary dining options with International cuisines. There will be seven celebrity chefs to satisfy your cravings with utterly delectable, and flavorsome international cuisines which means your taste buds will travel around the world. Isn't that incredible?
Cost: The staggering cost for this extravagant project is $1.4 billion.
Final Verdict
Kudos to you that you have made it to the end. Now you know that hoe Dubai is maintaining its global standards. Its upcoming projects will lead to a substantial surge in tourism, and the universal popularity of Dubai. People from all over the world will be enthralled by the captivity of Dubai's mega projects.
Smith Jason is an expeditious traveler. His passion for travelling and adventures led him to write blogs about his experiences. Having traveled to UAE, Malaysia, Thailand and more destinations, he has got a lot of exciting stories to share with readers.