Are you tired of the same for everybody's birthday as well as yours? It's Okay, take it abroad this time. Now, it's the best time to quench your thirst in Dubai for some brilliant surprising ideas. Dubai is one of the fantastic places to celebrate a special occasion in style. If you have an upcoming birthday, this is a great city to visit for a short getaway. Depending on what you want to do, your budget, and your plans, you can enjoy a memorable birthday party in Dubai. Let's have a look at some of the best ways to enjoy this special moment.
Birthday Party on a Dhow Cruise
It is fascinating to know that the vessel band- dhow is made of wood. It is beautifully converted into a restaurant with floats, adorned with gleaming lights, and it is divided into two decks that provide a special place to sit back and savor the view. You can delight in discovering a 55-person air-conditioned lower deck as well as an upper deck outdoors. where the refreshing breeze will lighten up your mood. Hence, it is a quintessential way to treat yourselves on your birthday.
Next is the dinner as delightful as the Dubai Premium Marina scenes. On top of that, all the guests are served welcome drinks to make the birthday celebration in Dubai extravagant and momentous. The birthday party is self-sufficient along with all the requisite facilities like tables, chairs. Dinner on a dhow cruise is surely one of the unforgettable birthday experiences in Dubai. 
Exemplary Birthday Party at Desert Safari
If you demand to celebrate a birthday party at the heart of the Dubai Desert, nothing will overtake the Safari Desert. Within this event, you can enjoy your event with fast cycling, the thrill of sand escapade, and camping life are all enclosed. You can also enjoy kickstarts with a monstrous land cruiser ride, sandboarding, and camel riding.  You should experience one of the life journeys with the desert safari with your loved ones for the memorable birthday celebration in Dubai. Also, it is an unsurpassed option to opt for those who want to commence their birthday in an adventurous, and thrilling way. In short, impeccable for those who want an extra serotonin rush for their birthday celebration in Dubai.
On top of that, If you are one of those who find it hard to sit still, it would be best if you plan your birthday party in a desert. Not just any old day in the desert here is the best time to satisfy your all needs for speed with an adrenaline-filled amusement on dune buggies.
Alluring Birthday Party on a Yacht
Nothing is more beautiful than celebrating your birthday party on the yacht.  If you have a decent crowd, they are not as expensive as people think; a yacht party is best for them. You can hire plenty of yachts in Dubai which come with soft drinks and water. You can get everyone to bring food and their choice of beverages. A birthday party on a yacht means you have got yourself the ultimate party with background music and live shows which means a consummate dose of entertainment, and joy on your birthday.
We all have the idea of Dubai's richness, and if we exclaim that why not party on a yacht, it won't be surprising. You and your guests reach the shore on a reputable car service, and the yacht awaits you. The luxury and views on the yacht are nuts. The sightseeing of skyscrapers is an alluring and prepossessing scenery which you can't witness anywhere else in the world.
Moreover, you not only have good food or drinks in the yacht arrangements, but you can also ask for a personal chef in order to spruce up your treat and to amuse yourselves with utterly palatable International cuisines. However, a birthday celebration on a yacht is the best birthday party in Dubai luxuriously and uniquely.
Ride on an Exclusive Limousine
It's not been too expensive that you have thought. Some companies can all pitch in for this so that it may come down to a pocket-friendly ferrying price. It is fascinating to know that the exclusive limousine immediately sets the; you just got to keep the party hat on. You have the best chance to play your mix, dance to the tunes, and drive to your favorite destination. Moreover, you can just put the windows down and go cruising through the vistas. After all, it is an exceptional day, and a luxurious or sumptuous birthday treatment is all you need to create unforgettable memories and cherish them for a lifetime.
Eat at Dubai's Best Restaurants
We all know that Dubai is filled with various cuisines from all around the world. You can opt from Lebanese, Turkish, Italian to the Chinese as well as Japanese. It is fascinating to know that Dubai has some of the best restaurants with multiple cuisines. If you are looking for delicious dishes at your birthday party, choose the best and good restaurant in Dubai.
Also, the ambiance and aura of Dubai's restaurants will provide you with an impeccable experience of fine dining. The best part is the fact that the options are limitless, and you have access to all the international cuisines. So, you can effortlessly opt for a restaurant to commence your birthday that matches your vibe and can satisfy your food cravings. Also, you can easily or effortlessly select an option depending upon your budget and still commence your birthday in the best way possible.
What About a pool brunch birthday party?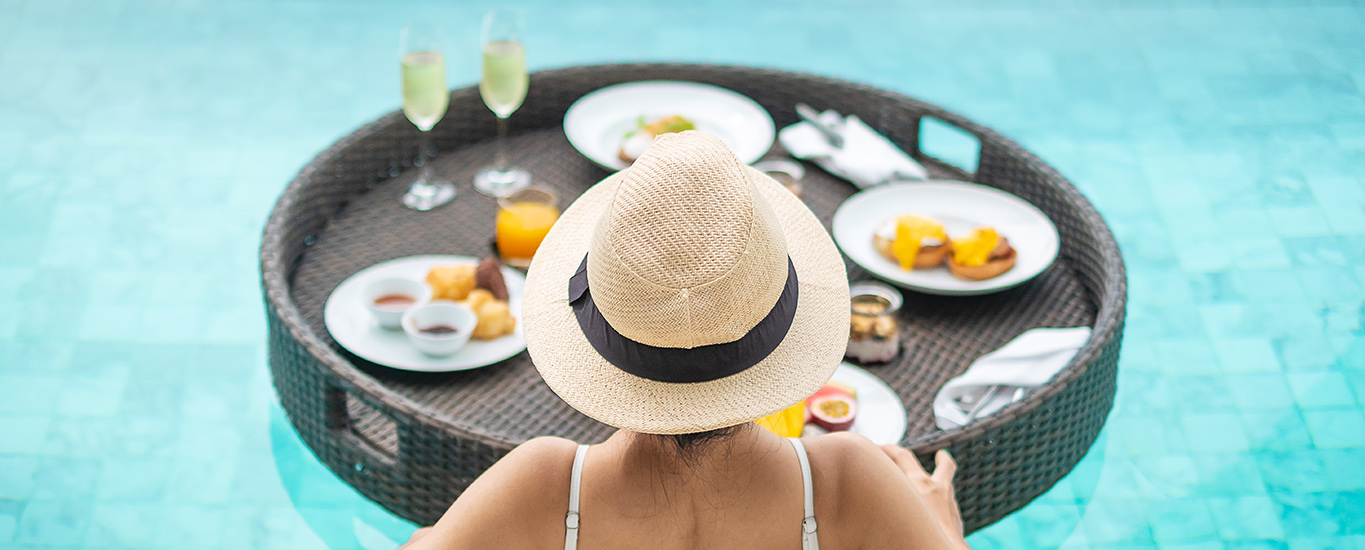 Just imagine the blue skies, unrelenting sunshine, as well as some of the coolest pool, mean a birthday pool brunch. You can try Palm Sugar Brunch that takes place at Wet Deck, W Dubai. It is fascinating to know that a birthday party in the pool brings you four hours of DJ tunes, unlimited food, and free-flowing drinks in the signature purple disco balls.
The choices are endless because there are many options to choose from, so take the time and find the best restaurant that suits your taste, especially for the birthday celebration. Along with this, it is by far the best way to have a birthday party in Dubai between the other options we listed above because a pool brunch birthday party can never go wrong, and it resonates cool vibes with infinite entertainment options onboard to throw an unsurpassable and consummate birthday party for your friends or family. 
A Mini Getaway to Ibn Al Bahr
Everyone deserves a mini-getaway on their special day to take a break from their hectic schedule, reboot their energy levels, treat themselves with a much-needed refreshing break, and have a birthday blast with their friends or family, and guess what? We have a perfect venue for this mini getaway which is Ibn Al Bahr. At Ibn Al Bahr, you will be mesmerized and awestruck by the alluring or prepossessing beauty of the beach which means you have to consider this mini-getaway especially if you are a beach-lover.

Their specialty is delectable and flavorful Lebanese cuisine, particularly seafood. Their food has an authentic Lebanese taste which has not been witnessed anywhere else in Dubai. The best part is that they make sure that there is no compromise on the health of their beloved customers. Hence, the refreshing ambiance, the appealing and ravishing beach scenery, and an idiosyncratic yet toothsome cuisine seem like an impeccable mini-getaway one can have on his/her birthday along with friends or family.
Customized Birthday Celebration in Dubai at the Dubai Polo Club
Some people love to commence their birthday in a conventional and orthodox way. At Dubai Polo Club, you can hire a professional event management team to organize your birthday with customized decor according to your requirements. Also, it is an exemplary venue if you want to have your birthday celebration in Dubai on a huge scale. Theme birthday parties never go out of trend and that is why birthday at Dubai Polo Club is an impeccable way to keep up with the trends.
Their hospitality and service never fail to impress.
You can set up a menu of delectable and flavorsome food according to your choice. All the arrangements are outdoors which means Dubai Polo Club will prove to be unsurpassable for those who always like an element of refreshment and revitalization at their special events. On top of that, you can have an extravagant acquaintance with horses that will be idiosyncratic or peculiar yet ludicrous and beguiling. Sounds incredible, right?
Final Verdict
Glad to see you down here. There are infinite options when it comes to a birthday celebration in Dubai which means you might get a tough time choosing the best one but still you can try all of them one by one on each of your birthdays every year to carve memories of different and unforgettable experiences in your brain. Isn't that incredible? We hope that our article has assisted you in commencing your birthday or the birthday of your loved ones in an extraordinary, idiosyncratic, and ravishing way this year.
Smith Jason is an expeditious traveler. His passion for travelling and adventures led him to write blogs about his experiences. Having traveled to UAE, Malaysia, Thailand and more destinations, he has got a lot of exciting stories to share with readers.