Dubai has set its "seatbelt" to take you to another level of surprise. Yes! Get ready to say something again like "WHAT? IMPOSSIBLE!"But no, because Dubai doesn't even know about the word IMPOSSIBLE. Yes, after appearing on the top of the tree with the largest landmarks, most mesmerizing views, having the highest skyscrapers, containing the most beautiful coastline, and so on, Dubai is going to hypnotize you all with the astonishing and gripping view of the sun from the height of 250m in the sky. No, you don't need to wait for this, or don't even think that it's just a rumor. As you know, Dubai has never disappointed you. So this news about a unique experience of Dubai from such an incredible height is going to be happening in a few days. Yes again, you heard it right!
DUBAI EYE FERRIS WHEEL – MOST HIGHLY ANTICIPATED ATTRACTION IN UAE!
Ain Dubai is going to be the world's largest and tallest Ferris wheel that will give you a stunning 360 degree of delicate and sightseeing skyline and landmarks of Dubai. It is almost twice the size of the London Eye.
OPENING AND LOCATION
This amazing experience is coming soon right on 21st October 2020 at Bluewaters Island, near the Dubai Marina in Dubai. Being located on Bluewaters Dubai means Ain Dubai will join the Caesars Palace and Caesars Resort.
OPENING HOURS
The attraction will be open daily from noon (the exact time has not been decided yet) to 10 PM.
A LOOK IN THE HISTORY OF Dubai Ferris Wheel
Previously, this grand wheel was named as Dubai Eye, and construction was announced in February 2013. Construction was started in May 2015 and they aimed to complete it in the mid of 2019 with the start of the Dubai Expo. But due to the severe pandemic of COVID-19, its construction was delayed. So now, the new dates of its opening have been announced that will coincide with the Expo Dubai 2021.
-COMPETITION WITH THE ROLLERS OF LAS VEGAS
The constructors and designers aim to make this wheel the largest wheel in the whole World with an incredible height of 250m. It will be taller than the current world's tallest observation wheel in Las Vegas with a height of 167m (550 ft), which opened in March 2014. Isn't it a thriller and exciting? The hypnotic view of Dubai from the largest wheel of the world will surely give you a feeling that you will never describe in your words.
-ABOUT THE DESIGN OF AIN DUBAI
The monument is an amazing and perfect feat of construction. Each leg of the wheel is standing with a height of 126m and the weight of the assembled hub and spindle is equal to 4 A380 aircraft. The wheel is completely safe and surrounded by unforgettable experiences and enchanting views of Dubai.
-A PERFECT ARABIC NAME-"AIN DUBAI"
The name perfectly defines the beauty of this wheel. 1st of all, the stunning wheel was given the name of "Dubai Eye" but that looked so odd and seems to be a copy of the name of London's wheel "London Eye". So they turned the name into an Arabic version as in Arabic Ain means Eye.
SOAR INTO THE SKY!
-FIRST IMPRESSION OF DUBAI FERRIS WHEEL! Dubai believes that "First Impression is the Last Impression". And it has made this happen that the 1st impression of this attraction must be breathtaking. Ain Dubai is truly a masterpiece of art. Not only the wheel, but the base area is a piece worth seeing. On entry, you will be oppressed to say WOW!
On your entry, you will find a modern and well-maintained reception area with a white interior and huge columns. The ceiling will draw your attention and you will be amazed to see the transparent section of the ceiling. Through a transparent section, visitors can see the rotation of the wheel.
After completely praising the interior of the reception, you will lead up a staircase. These stairs will take you to the platform from where you will be able to get into the pods. The whole place is crafted with glass panels so you can have insight into slowly moving pods. The place is perfect and luxurious to take classy pictures. Also, the rotation of the wheel won't stop. The pods will remain rotating but the speed will be too slow and each pod will get a specific time slot so the passengers can head themselves in. Like in the metro,  an announcement will be made as a reminder to the passengers that the doors are about to open or close, so the visitors will make themselves ready to hop in and out. And if in case you miss the announcement, then there are two large screens on the pods that will display visuals to remind you. -HOW THE CABINS LOOK LIKE AND WHAT DO THEY CONTAIN?
The cabins are different from each other. And the cabin type depends on the type of package you have chosen for yourself. But all the cabins are air-conditioned and spacious.
If you are in an observation cabin, then there will be walls of spacious glass and a simple white table.
The private cabin is a bit lavish from the observation cabin. It will have seats with walls providing you better opportunities to have a look at the hypnotic and stunning views. You will also get the opportunity to have your favorite beverages.
In the exclusive cabin that is special for dining in, guests will enjoy two rotations of the wheel while having yummy dishes with catering services.
-IT'S ALL ABOUT THE LUXURY VIEWS! Once the doors are shut, it's all about having a deep insight into breathtaking views. Starting from the uninterrupted views of Bluewaters Island and Address Beach Resort, the pods will gradually take you to the height where you will enjoy and admire the Dubai Coastline and Jumeirah Beach Residence (JBR). The glass doors will give you a clear 360-degree view of Dubai.
THE TOP- INCREDIBLE, BREATHTAKING, MESMERIZING, AND HYPNOTIC
The thrill will come when the pod will reach the top of the wheel. This best and unsurprising view will breathe. -VIEW OF DUBAI ON A BRIGHT DAY! On a bright and clear day, you will be able to have a clear view of the outline of Palm Jumeirah, right down the Atlantis. The palm will be on one end and you will be able to spot Burj Al Arab at a distance. Sprawling views of JBR, jet boats and luxury yachts like Dubai Marina, Lotus Mega Yacht and other small yachts moving through the water, and the Dubai coastline will add value to your experience. -NIGHT VIEW FROM AIN DUBAI! The view of JBR, The Palm Jumeirah, and the overall Dubai skyline will look so delicate and glittery at night, the blue waters will slightly change into an inky black. However, if you want to have a more stunning view, then it's recommended to have a visit to this delicate attraction in Day so you can have a clear view of Dubai.
DISCLAIMER:
THOSE WITH A SEVERE FEAR OF HEIGHT ARE RECOMMENDED TO AVOID THE RIDE AS IT MIGHT BE A BIT NERVE-RACKING FOR THEM.
-GIFT SHOPS The 1st round will seem too short if you keep yourself busy taking pictures. So it will be better to use your phone less as the pictures will never explain the real beauty that you will see in real life with your eyes. Anyways, after hopping out of the cabin, a staircase will lead you towards a gift shop. You would love to have some shopping here. The items here are stocked with Ain Dubai-themed souvenirs like T-shirts (in the range of Dh75 and Dh100) and cups (Dh25 to Dh39).
SEE DUBAI FROM A FRESH PERSPECTIVE!
Catch the sunrise and sunset from a different perspective, gaze at the astonishing views of amazing and stunning landmarks like Burj Al Khalifa, Palm Jumeirah,    and Burj    Al Arab, sleek sights of Dubai Marina, spend a night with a thrill of the height, or take your events up in the sky with so many things to do at this auspicious wheel.
SOME INFORMATION ABOUT TICKET PRICES AND WHERE TO BUY TICKETS?
-PRICING FOR OBSERVATION CABINS
                        GENERAL TICKET PRICE
FOR ADULTS            Dh130 FOR CHILDREN        Dh100
FAMILY PASS (FOR 2 ADULTS AND 2 CHILDREN)
AVAILABLE AT.           Dh370
FAMILY PLUS PASS (INCLUDES A SNACK AND BEVERAGE PER PERSON)
AVAILABLE AT            Dh450
-SOME SPECIAL BOOKINGS
Apart from these random observation cabins, here are some other experiences that you can do here at Ain Dubai. SOCIAL EXPERIENCE -FOR ACCESS TO SEAVIEW LOUNGE It will include a delicate experience for those looking for a fun night out of the idea. It will include some VIP Treatments like a special check-in, welcome drink, and access to the sea view lounge. From the lounge, you will enjoy the sightseeing lights and décor of this grand and beautiful wheel with a cool breeze and the peaceful sound of water waves. If you won't want an outside walk, then rest in the lounge and
AVAILABLE AT     Dh175 PER PERSON
–DUBAI PREMIUM CABIN
AVAILABLE AT   Dh380  PER PERSON
Ain Dubai PRIVATE CABINS
Private cabins of this astonishing observation attraction are designed suits. It will be perfect for all kinds of celebrations like from personal events to cultural functions. You can take your events (birthdays, weddings, business functions, or other events) to the sky touching height, can book a room for a luxurious night stay, and simply can have dinner at top spots. Or just skip everything and spend quality time with your close ones without allowing strangers in your private cabins. The place (cabin) will be yours for 38 minutes. -SINGLE CABIN FOR A GROUP (up to 8 persons in a single observation cabin)
AVAILABLE AT    Dh1800 (for a single rotation)
FOR CELEBRATION AT ANY POD
SHELL OUT               Dh4700-plus
IMPORTANT NOTE:
"THE EXCLUSIVE LOUNGE WILL CONTAIN 2 ROUNDS OF RIDE EACH OF 38 MINUTES WHILE OTHER LOUNGES WILL OFFER ONLY ONE ROUND OF RIDES."
TICKET OFFICE
The ticket office is located at the base of this attraction. However, it's better to book your tickets online with Mala Tourism to save yourself from the hustle of waiting in the queue.
THINGS YOU MUST KNOW BEFORE BOOKING
A single rotation will take 38 minutes. All the visitors are advised to come 30 or 60 minutes earlier. They must be present before the time. Because it will take time to complete the entry process, buy snacks and use the toilets.
A single cabin can accommodate over 40 passengers. But to follow the SOP's of COVID-19, they will allow only 7 to 10 visitors to accommodate the cabin at one time.
The visitors are not allowed to take food items from outside or from their homes. You can only buy snacks, drinks, and other refreshment items from the lounge or the concessions inside the cabins.
The experience will be smooth even for those with vomiting or nausea sickness. The cabins move at a gentle walking pace so you can enjoy completely all the worth seeing views of skyscrapers and landmarks of Dubai.
IMPORTANT NOTE:
Guests of all ages are welcome with open arms. But the youngsters under 16 should be with their parents or guardians.
HOW TO GET THERE?
There are many ways to get over the place. The observation wheel is opposite Caesars Palace on Bluewaters Island and you can reach Bluewaters Island from the mainland by Sheikh Zayed Road.             -VIA PUBLIC TRANSPORT If you are coming via public transport like a tram, the perfect stop is Dubai Marina tram station, which is only a 6-minute walk away from this stunning wheel. And if you are coming via bus then bus lines 8, 84, and F55A are perfect for you.             -VIA DRIVING If you are coming in your car, then make it just know that there is no parking at the attraction. However, you can find a perfect parking spot at the Bluewaters Parking area.             -HAVE A SPLENDID WALK If you are already at Jumeirah Beach Residence, reach the Island from the Pedestrian bridge in almost 15 minutes walk.
DON'T WORRY ABOUT THE COVID-19
If you are afraid of visiting places of public gathering due to COVID-19, then don't worry as the place assures you to take care of all the precautions strictly. Wearing masks will be compulsory for all visitors.  Besides the masks, Ain Dubai has set some mandatory precautions like:
Masks and hand sanitizers will be available
An online ticketing system
Barriers between visitors and the staff
Contactless payments
Electronic devices to order snacks and drinks
LA limited number of guests in cabins
Regular disinfection of frequently touched areas especially on ticket cabins
SOME DETAILS THAT WHAT YOU CAN DO IN THE PODS
-GAZE AT THE SKYLINE AND SCORE SOME SUPREME SNAPS From the observation cabin, you will be able to catch the elegant and marvelous views of the Dubai skyline with some perfect views of the Arabian Gulf. You will love to refresh yourself with some snacks and drinks in a 38-minute ride. -WHAT ABOUT TAKING YOUR CELEBRATIONS INTO THE SKY! Private cabins are perfect for celebrating some events in the sky. The cabins can accommodate up to 40 guests at a time. So you can have a perfect time with your close ones. You can arrange events like
Engagement or wedding events will be perfectly celebrated at an amazing height. This unique experience will make these special events more memorable and exciting. The package will provide you a customized theme, menu, and other things that are necessary for your special event. However, it's a perfect choice only if you have a limited number of guests.
BLOW THE CANDLES WITH MESMERIZING VIEW OF SUNSET
Birthdays are a great way to give you hype. And the celebration of an event that comes once a year demands some thrill and uniqueness. And whatever you have planned yet, cancel it because, after the opening of this grand observation attraction, no place will be able to beat the feeling of having your birthday in one of its pods. So plan your upcoming birthday, invite your close ones and take them to the incredible height in the sky. The dazzling sun and view of the gripping and breathtaking skyscrapers of Dubai will make your birthday memorable, exciting, and unique.
MESMERIZE YOURSELF WITH THE HEIGHT AND SET GOALS FOR YOUR BUSINESS
Head yourself out of the boring meeting rooms and arrange a business meeting over the city. With this hypnotic height, set the goals with your partners and team members to take your business to the same height with success.
SOME CULTURAL CELEBRATIONS
You will love to arrange Christmas parties or Eid parties to be celebrated in this unique place. The feel of being on the top of a unique height where no one has reached before will make your cultural events special, full of thrill and excitement, and memorable. -DINE IN THE SKY A special experience in which you can opt for different packages like having your dinner in the sky will also be available in a seated dining cabin arrangement where you will be able to have your favorite dishes with a stunning view of the top highlights of Dubai.
THE PLACE AROUND AIN DUBAI IS INCREDIBLE
Ain Dubai is located at Bluewaters Island near the Jumeirah Beach Residence and The Beach. So there is much more to do here. The basement of Ain Dubai is no doubt so stunning. The interior and the large screens keep the visitors busy while waiting for the pods to arrive. However if you feel bored at that place and there is much time in your pod to arrive, simply wander around the area. You will find plenty of things to do. In this way, you will surely not get bored. -SHOPPING SPOTS NEARBY Near the attraction, you can have some window shopping or shop for anything that you want. THE BEACH  at AIR MALL at JUMEIRAH BEACH is 0.5 meters away from the attraction. Here you will find some cool stalls and shops to buy different things. -NEARBY RESTAURANTS The management of Ain Dubai will never allow you to take your food from outside. You will have to buy the food from the lounge of the attraction. So if you don't want to take anything from there, don't worry, there are so many restaurants nearby.
This restaurant at The Wharf is only 0.1 miles away from the Ain Dubai (too close to the base). You can have steaks, burgers and different seafood even lobster too. The restaurant offers you a perfect outdoor setting with mesmerizing views of Jumeirah Beach Residence (JBR).
It's a kinda beach club with 3 swimming pools, cabanas lounges, Jacuzzis, live music, and so on. They offer you a variety of fast foods and cuisines. The place is only 0.2 miles away from Dubai.
It's 0.6 miles away. It's a casual beach restaurant at the Hilton Dubai Jumeirah, The Walk, Jumeirah Beach Residence. You can have burgers, smoked and grilled food, sandwiches, salads, etc.
It's a Chinese restaurant that is only 0.2 miles away from Ain Dubai. The place is delicate and authentic and provides you with food perfect in quality. You can have dishes with a contemporary twist like lamb skewers, Hot stone dishes, Dry pots, spicy seafood, appetizers of various kinds, juices, and desserts too. -NEARBY HOTELS FOR A STAY If you come from a distant place and need to stay overnight or day, and searching for a perfect hotel to stay near Ain Dubai, then you must visit
Caesars Resort Bluewaters (0.2 miles away)
Caesars Palace Bluewaters Dubai (0.2 miles away)
Sheraton Jumeirah Beach Resort (0.6 miles away)
EAT, LAUGH, AND ROAM AROUND THE MAGICAL PLACE OF BLUEWATERS ISLAND!
Not only has the Ain Dubai, but Bluewaters Island also has so many perfect places that will make your Ain Dubai tour full of excitement. Bluewaters Island is a vibrant lifestyle destination. You will love to spend your time with a ride on the pods of the Ferris wheel, walking on sandy beaches, relaxing on sand while seeing the magnificent playtime of waves, having aromatic dinner at perfectly maintained nearby hotels, and much more. Like you will not only go there just to have a 38 minutes ride. It will take your full-day tour so you should know about the things that can make your trip perfect. Explore the beauty around this lavish Island and make your day a well-spent day.
FEEL THE VIBES OF BLUE WATERS
Bluewaters is a vibrant place that is full of charm and attractive sites. You can wander about the beaches and can experience the enchanting activities in so many ways. The place is considered as a shopping paradise, has unique housing retails and the best of all, it's a perfect location and a home for amazing restaurants. So if you are a food lover then the place has many more and unique tastes to serve you.
HOW WILL YOU EXPERIENCE THE BLUEWATERS ISLAND?
First of all, Dubai Ferris Wheel is gonna be your 1st choice to have a 360-degree view of this astonishing place from a unique height. However, from the ground, you have many different and exciting ways too.
1.    HAVE BREAKFAST AT MARINA YACHT
If you arrive before time and still the Dubai eye has not opened, don't worry. Have a marvelous and yummiest breakfast deep in the blue water on Dubai Marina Yacht. Not only breakfast, if you reach there in the evening then a perfect BBQ will be looking forward to you. Roam around the Island and make your waiting time a well-spent moment.
PRICE:  Dh200 PER ADULT
2.    DINNER WITH MUSIC AT DUBAI MARINA
The Island is all about sandy beaches and rushy waves. So being on a yacht is more amazing than just laying on the sand. So have a jaw-dropping dinner at Dubai Marina Cruise and feel the bashing cool air and enjoy loud music and spend an enchanting night.
PRICE:  Dh140 PER ADULT
3.    ROAM AROUND MARINA, ATLANTIS, PALM & BURJ AL ARAB
If you don't want to eat or dine in then exploring the place is a perfect idea. You will love to have an insight into the gripping architecture of Dubai Marina, Atlantis, and the best of all Burj Al Arab. Choose a speed boat tour and experience the cool breeze, noise of water, and the most astonishing and marvelous architectural buildings of the World. You will find perfect picture spots to capture your happy moments.
PRICE:  Dh120 PER ADULT
4.    JET SKI TOUR IS ALSO A GOOD IDEA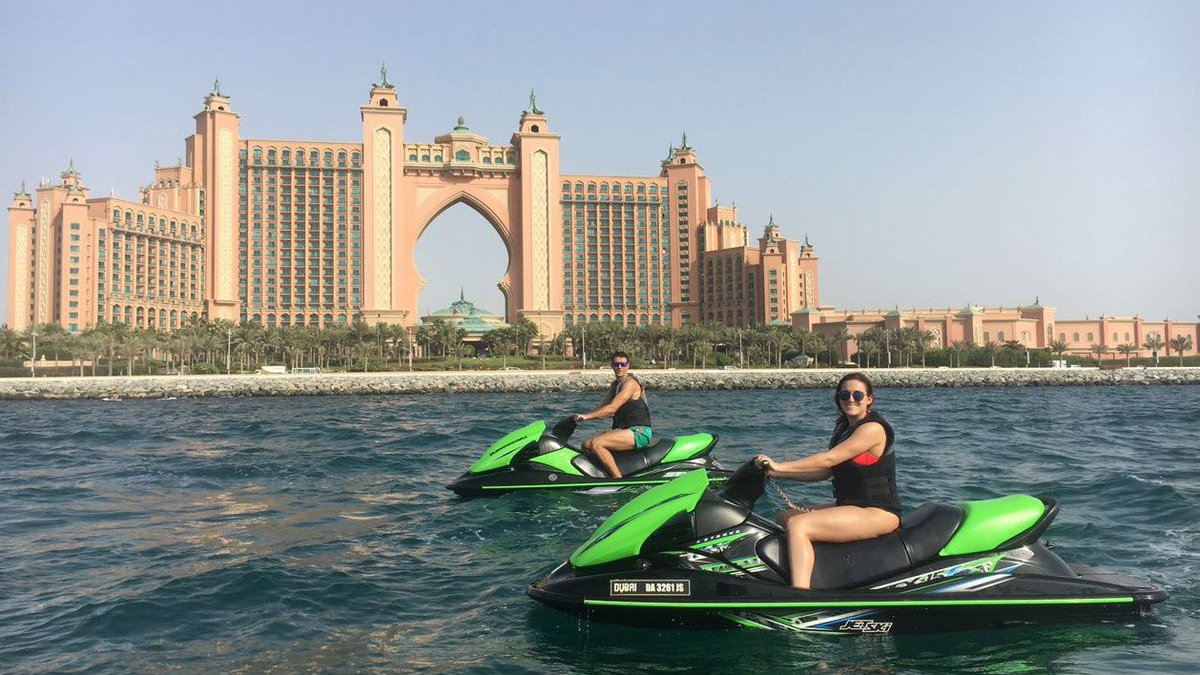 If you like speed and want to surf the waves then Jet Skiing is one thing that you would love to do. But it requires a bit of technical knowledge and practice. So if you are good at it, take your partner and roam and explore the splendid water and watch perfect views of these grand buildings. PRICE:  Dh871 PER ADULT
5.    HAVE A CITY TOUR AROUND THE ISLAND- E-SCOOTER EXPERIENCE
It is gonna be great fun. The e-scooter is designed to ride on and roam and wander about the streets and let the island follow you side by side. You can have a full round in the markets that are close to the Island so you don't need to walk much. Doing this in a group with your family and friends will be a perfect laughing time.
PRICE:  Dh171 PER ADULT
6.    QUA SPA
Are you going to spend a weekend just having fun? Why not have a peaceful time and relaxing your body at a well-organized spa? Qua Spa is just 5 minutes away from the Dubai Eye Ferris wheel. So it will not take much time of yours and you will be able to catch your pod at the perfect time. The time spent at such an elevated spa will make you feel relaxed from the whole week's hustle. Qua spa offers you a collection of authentic treatments and high-rated services to restore and revive your well-being.
OPENING HOURS: 8 AM – 10 PM PRICE:  DEPENDS ON SERVICES
7.    AQUA FUN
View this post on Instagram
A perfect inflatable water park in the whole world. Having so many fun and exciting hair-raising water activities, the park allows you to burn more than 1000 calories in hours. So isn't it a good go for gym lovers? It tests your coordination skills, stamina, upper body, and lower body in a perfect, fun, and chilling way. You can spend the whole day here as the tickets are valid till the closing. So it's surely gonna be a perfect combination (swimming near the shore + riding Dubai Ferris wheel).
OPENING HOURS: 9 AM – 6 PM TICKETS: ADULTS (12+)  150AED (A FULL DAY PASS) KIDS BETWEEN 6-12: 120AED GROUP OF 4 OR MORE/PERSON: 110 AED
8.    SIP YOUR FAVORITE COCKTAILS – BLISS LOUNGE
View this post on Instagram
Being just 10 minutes away from Ain Dubai, Bliss Lounge is a perfect jewel of the Jumeirah beach. With vibrant and lush views of Jumeirah beach at your back, you will spend quality time with your favorite cocktail and fresh juice. It's a perfect place to cherish and hydrate yourself after wandering about the Island. You can come here at sunset to enjoy a dazzling view of the sunset. However, timings are free to come so you can just follow up your schedule and manage the whole day.
OPENING HOURS: 12:30 PM– 2:30 AM PRICES: DEPENDS ON THE SERVICES
9.    BREAK LAZINESS RECORDS AT MARINA BEACH
Address: Direction Have a walk towards Marina beach which is just 12 minutes away from the glorious  Ain Dubai. If you just wanna relax and wait for your turn to ride on the Ain Dubai, a perfect place to just lay and do nothing is obvi Beach. But now it will depend on the weather. If you are visiting in summer, then the t place to wait will surely be indoor places. But if it's a beach-friendly mason, just pick your mat and lay all day and enjoy your happy sun sunbath.
10. WALK AT JBR
Live every moment of your weekend trip and explore the whole of JBR. JBR is just 17 minutes away from the Dubai Ferris wheel. You will have an opportunity to spend your time according to your wish and choice. Explore and taste the aromatic street foods, look at the architecture of streets, have some shopping or, just gaze at all the stores to have a window shopping experience and much more. JBR is a perfect place where you can have thousands of experiences that will make your time glorious.
EAT, DRINK, ROAM AND CLICK THE PERFECT MOMENTS!
11. DUBAI MARINA MALL CALLS ALL THE SHOPPING FREAKS!
Shopping is a perfect activity to pass your day and time. So if you have plenty of time then Marina Mall is ready to offer you all the que brands and so many fun activities indoors. You can eat, drink, have fun and shop at Dubai Marina Mall.
12. DIANA JEWELRY DUBAI
Address: Direction Give a hand to a taxi or drive yourself and get yourself on a perfect jewelry spot in Dubai, Diana Jewelry, which is just 1.6miles away from your main destination. The store is perfect for eye-catching jewelry. The unique designs and prices will trigger you to purchase at least one masterpiece from here. OPENING HOURS: 9:30 AM 6:30 PM The Island is full of perfect spots and there are so many things that you can do. Obviously, you are not coming just to have a ride in Dubai. The whole day will require perfect spots to make your tour worth memorable. So you can choose other spots according to your choice. Still, there is much more to do. Like you can visit and explore
Flying cup (10 minutes from Ain Dubai)
Eat lavish and tasty food at Hilton sky bar (13 minutes from Ain Dubai)
Zero gravity (1 mile away from Ain Dubai)
Walk and explore the place of "Withlocals" (1.6 miles away from Ain Dubai)
Dubai Marina (1.4 miles away from Ain Dubai)
The Beach Center (11 minutes from Dubai Eye)
Burj Al Arab (5.7 miles away from Ain Dubai)
Bricks 4 fun (12 minutes from Ain Dubai)
Breakwater wellness center (11 minutes from Ferris wheel Dubai)
SeaSealionint (3.5 miles away from Dubai Eye)
FINAL WORDS
Ain Dubai is surely gonna make Dubai on the top of the list having unique and largest landmarks. Ain Dubai will be the most precious jewel in the crown of Dubai. The unique 360-degree elegant views of Dubai will give the visitors an unforgettable experience. This is an incredible addition to Dubai's tourism and once it will be open to the public, it is surely gonna be a top attraction for the visitors. The 38 minutes of its ride will take you to another level of joy and amusement and you will be amazed and surprised by seeing such a maintained piece of art.
Smith Jason is an expeditious traveler. His passion for travelling and adventures led him to write blogs about his experiences. Having traveled to UAE, Malaysia, Thailand and more destinations, he has got a lot of exciting stories to share with readers.