The UAE has numerous beautiful beaches that any beachgoers highly approve of. One of them is Kite Beach. This fun-loving and relaxing beach got its name from the most popular activity– kite surfing.
Among all the mind soothing beaches, the Kite Beach in Jumeirah allows the most fun because of its intense as well as adventurous activities. If you're not into sports, you'll still love the place. Kite Beach is full of colorful kites gliding by a sky by enjoying the gentle wind, inviting waves, and feet on the white sand.
The name and awards of Kite Beach Dubai 
Jumeirah Kite Beach has won several awards. However, in 2016, the most important one is the award for the best beach for the family, based on the assessment of the Sassi Mama International Center for Tourism.
It is fascinating to know that the word Kite Beach came from the kites that fly in its sky at most times of the day. It is considered one of the major attractions for kids and youth on Kite Beach. Have a lot of fun while enjoying the green waves of the Arabian Gulf.
Location of Kite Beach Dubai
Across Jumeirah street and Al Manara street, kite beach is located on Jumeirah Beach. The beach catches the sight of water sports kite lovers, enthusiasts, and sea goers.
Kite Beach Dubai Timings
Kite Beach Dubai is open all day of the year. Kite Beach's Restaurants are open from 9 AM until midnight. Sometimes longer during the winter or high season.
Beautiful Attributes of Kite Beach Dubai

Enjoy the marvelous view of Burj al-Arab from the seashore. Long jogging paths, Delicious food stalls, cycling tracks, and colorful drinkables define its uniqueness.  The majestic view of the beach has a long-lasting effect on mental health. However, if you are looking for the perfect site to sunbathe as well as water sports, visit this beach.
Fantastic things to do on Kite Beach Dubai
With an Insta-worthy location, library, plethora of shopping and dining options, and fitness areas, there is never a dull moment on Kite Beach. The beach is also considered one of the best surfing spots in the UAE.  Let's have a look at Kite Beach activities that will get your adrenaline soaring.
Water Activities on Kite Beach Dubai
You'll be surprised to know that Kite Beach Dubai is one of the top spots for water-based activities. several services around Kite Beach offer rental equipment as well as training for various activities. With this in mind, some of the best Kite Beach water sports in Dubai are following.
Kite Surfing

A wild ride with a full-body workout on the waves- that's all that describes a day kitesurfing at the kite beach. If you are coming without the right gear, don't worry as there is a kitesurf shop in the area along with a wide of quality kites, surfboards or some other related items. Keep in consideration, the visitors claiming to be professional kite surfers are required to produce certifications before they the rent equipment.
However, if you are worried about lack of professional training, don't worry. It is fascinating to know that the beach has also the facilities for amateur kite surfers. The Kitesurf School Dubai provides proper training for visitors who are new.
Paddle- Boarding

If you feel, kite surfing is too extreme for you, safer paddleboarding experience is the best option for you. Stand up paddleboards are an easy choice for the people looking for safe and secure water-based activities. Special Boards are available for singles, couples as well as groups. However, the rental price significantly depends on the type of SUP required and gear. Services such as Kite N Surf offer the activity on the Beach.
Go Kayaking
For a serene experience, you must rent a kayak, available seven days a week. There are vendors in Kite Beach offering single and double-seat kayaks for hire.  Whether you want to ride the waves for a romantic cruise, the choice is yours.
Jet Skiing at Kite Beach

Jet skiing is a personal favorite thing to do on vacation. Your visit to Kite Beach is uncompleted if you skip this amazing activity. Join hands for a breathtaking jet skiing experience. When you set out jet skiing on the thunderous waves, you'll feel drown deeper into the stunning landscape of Dubai. Jet skiing makes your day more enjoyable all credit to jet skis that boast of rides and accelerated performances.
Expert guides will give you all the essential safety instructions at the start of the ride, halt at places of interest as well as support you through the amazing adventure.
Nemo Diving Centre 

Nemo Diving Centre offers specialized guidance to the best deal of diving candidates. Both beginners and experts can have a scuba diving course. Moreover, the kids can also avail of this opportunity. If you really want to stay near Kite Beach, ensure you have requested them for a quick dumpy scuba training.
Other Activities to do on the Kite Beach Dubai
Kite Beach Dubai is a magnet for the visitors looking for the best beachside experience. You will find various going on events, for the whole year. While walking on the beach, you'll find the best view of Burj Al Arab which overlooks the skyline of the city. Find the ultimate relaxation along with your friends and family.
However, that is not all, here is a rundown of other activities to make your day more enjoyable.
Engage in a Volleyball

Several volleyball courts are scattered around the beach, some leagues also arrange games throughout the year. Depending on when you are visiting, get the chance to see pro players in action. Of course, you can also play with your friends and family. Keep in consideration, the courts are limited, so there is need to get early to claim your space.
Read a Book- Beach Library

Are you a fan of books?  Are you are fantasizing about paperback with the sound of crashing waves as a backdrop? you are in luck, there is a beach library too.
Find yourself soaking in the sun, right before a beach with a good read to accompany you. The library houses books for both children and adults. Books in English and Arabic are available free of charge at the Kite beach library.
 The Running Track

Most of us have turned into fitness freaks, we are not keen on letting go of a workout. It is essential to lose those calories too! No doubt, the vacations focus on a new place, great surroundings as well opportunity to engage yourself in some exploration.
Amidst all this, why should you waste time in the four walls of a gym? If you are planning to visit the Kite beach, then let your workout revolve around taking a run across the fantastic running track. However, make sure it's done early in the morning as well as after sunset.
This 14-kilometer long track is both for the runners and cyclists. Your outdoor workout will be more fun-filled, thanks to his amazing running track. However, the distance markers and the soft surface remain the highlight of this running track.
Magnum Fitness Beach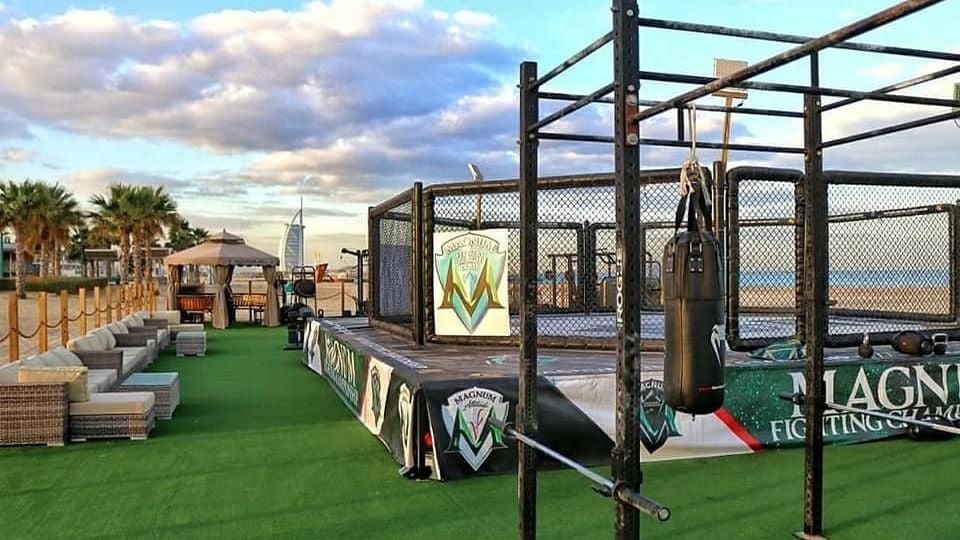 Another place for the fitness freaks looking to stay in shape on vacay is Magnum fitness beach. Open gyms are always enjoyable. If you have some plans to visit Kite Beach, you must engage in a workout here. The workout area comprises all types of the art equipment. Along with this, there are also instructors in order to guide you through the workout session.
Another highlight of this open gym is exclusive one-hour sessions in Jiu-Jitsu, self-defense and Muay Thai that you can take. Make sure to save some calories for burning at this open gym.
Wire World

People who enjoy outdoor adventure must head to Wire World. The area appeals to both children and adults. Wild World, the outdoor adventure park is a hit among visitors along with its special inclination towards the Swinging Tarzan. It's a 40-meter zip line calling for an adrenaline rush.
Bungee ejection is another thrilling activity to do here for children aged over 10.  If you are a fan of acrobatics, try some backflips, somersaults, or enjoy a free fall. Children can also have an amazing time at this adventure park. Accrobranche Junior is a must-try for the kids. A low rope course is significantly designed for young trekkers.
Moreover, safety parameters are also observed at this park, feel free to allow the child to get hooked and enjoy. Ticket prices are different for course or ride.
Timings: 09:00am to 09:00pm
XPark Jr– Urban Forest School Program
Another worth visiting attraction for kids at Kite Beach Dubai is XPark Jr. XPark Jr is a forest-style playscape located just right off Kite Beach. Children can build their own secret hideouts and climb wooden forts. They cook in a mud kitchen. It's an interactive learning experience instilling the love of mother nature in the hearts of the park's visitors.
Cost of admission:AED 80
Timings: 08:00am to 06:30pm
XDubai Skate park- Dubai's largest skateboarding park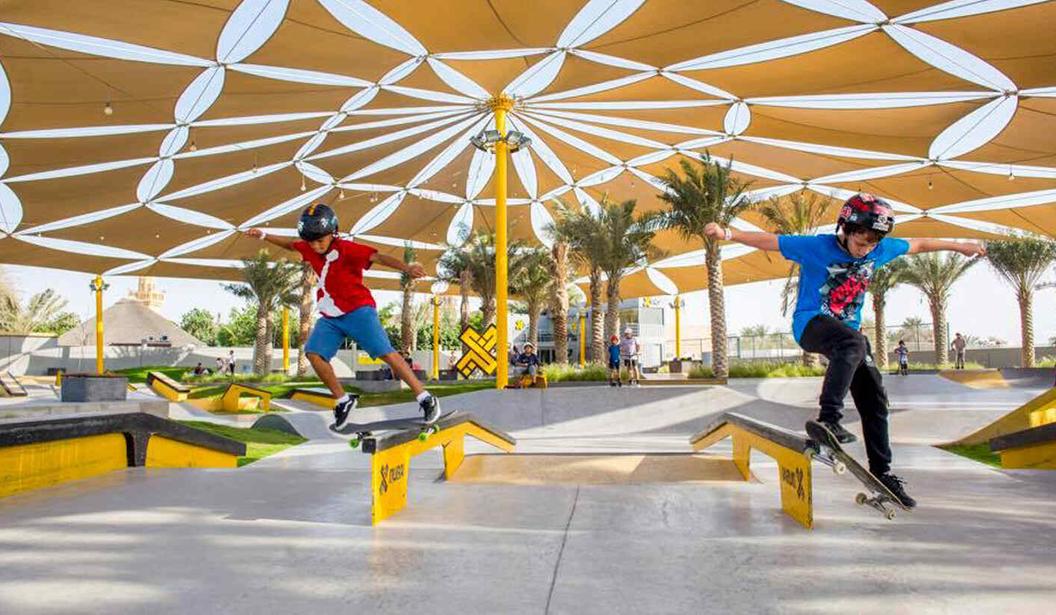 Whether you are a beginner, a pro skateboarder or someone who just loves to watch skaters, you will want to see what's in store at the XDubai Skate park. XDubai Skate park is set on an ideal beachfront along with separate skate areas for novices as well as professionals. The place is entertaining if you want to lookout for pro skateboarders performing incredible stunts.
The place is a paradise for all skateboarding and rollerblading lovers.  Spread across 3,100 square meters, the park features a massive range of unique obstacles. You can either carry your board or rent one on the spot. It is fascinating to know that the skate park is open to children aged above 4 years. Children aged up to 9 years require to be accompanied by an adult. However, the XDubai Skatepark is the only facility in Dubai dedicated to pleasing the skateboarding community.
Cost of admission:AED 45 for a day. AED 1000 for yearly XGrounders membership
Timings: 02:30pm – 05:30pm; 06:00pm – 09:3 pm (Sunday to Thursday)
08:00am – 11:30am, 02:30pm – 05:30pm, 06:00pm – 9:30pm (Friday and Saturday)
Visit the Water Park
You must know, Kite Beach Dubai is home to Splash N Party Waterpark. The park is also dubbed the coolest and exciting waterpark on the beach. This area significantly retreats for the kids. Moreover, Splash N Part water park is also the best option for parents looking for kid-friendly water activities.
There are numerous Kite Beach events to look for. The beach also hosts events such as birthday parties as well as offers party packages for the customers. From splash pads to water slides, the waterpark offers everything for families to make the event memorable.
Cost of Admission:AED100 to AED150 (One adult gets free entry), AED 50 for an extra adult
Timings:03:00pm to 07:00pm (Sunday to Thursday)
03:00pm to 09:00pm (Friday and Saturday)
Just want to relax?
If you want just to relax and lie in the sun, Kite Beach is also perfect for you. What makes Kite Beach unique is that you can are allowed to choose between the busy area as well as the quiet one. The beach is spacious. Even when it's busy you can find a place to retreat yourself.
Umbrellas and sunbed are available for rent. The other big advantage of Kite beach is the fantastic view of Burj Al Arab. If your visibility is good, you can see Burj Khalifa in the distance too. Dubai is blessed with golden sands that can be enjoyed at no cost.
Dinning at Kite Beach

There are a lot of restaurants at Kite Beach Dubai. From delicious breakfasts and desserts to local favorites, there is something for every palate. You must try Italian food at Kimbo Espresso and chargrilled chicken at JJ Chicken.
Enjoy a cup of coffee or scoops of ice cream at Haagen-Dazs. For a kid-friendly dining experience, head to Carnival Treats for popcorn, Turkish ice cream, popcorn, slushies and much more. It is fascinating to know that the Kite beach offers American, Chinese, Italian, and much more varieties for the food lovers.
Food Trucks at Kite Beach

Looking of kid-friendly experiences, ensure that you make a beeline for the food trucks.  These food trucks are considered the best food trucks in Dubai. The vehicles are a staple attraction at the beach offering a wide range of cuisines. The colorful trucks sell almost every item from juicy burgers to sushi.
Salt has a lot of trucks across the city, with Kite Beach being the most popular location. The staple stainless-steel truck is an amazing feature here completed with an outdoor terrace. Head on over for a taste of their famous softie ice creams.
What about Kite Beach Parking?
In terms of parking at Kite Beach Dubai, you will not face any problems there. There's public as well as private parking all day.
Essential Tips for Visiting Kite Beach
You can bring in your personal vehicle, the Kite beach authorities offer the best security services and all the available parking slots are cheap.
There's a specifically reserved zone for swimming called Kite Zone. It is suggested to restrict the swimming activities to this zone only.
The 14-km track runs near the Kite Park homes to exercise equipment for beach strollers.
For biking through this track, it would be best to rent a bike from Bike hire
There is a number of bars and restaurants to take sufficient care of the tummy requirements.
It is fascinating to know; the Kite Beach Dubai offers a perfect condition of waves and wind that makes it the most visited one.
Related Blogs: