Dubai is breaking records regarding the best, the largest, the deep, the amazing, and the most mesmerizing places in the world. The list is becoming larger and larger and still, Dubai is leaving no stone unreturned. If you say Dubai is a place of mesmerizing things and a hometown that gives reality to your imaginations, then it would not be wrong.
After the World's highest Building the Burj Al Khalifa, the highest Ferris wheel, the largest Shopping mall, the largest water park, now Dubai has taken the award of the World's Deepest swimming pool. The development of such an incredible place in Dubai is like an investment in Dubai's culture and it has increased the value of Dubai and has made Dubai a world-class destination. It's the best addition in Dubai's thriving tourist attraction and adventure tourism sector.
ABOUT THE Deepest POOL in Dubai
Deep Dive Dubai is located in Nad Al Sheba, Dubai's close neighborhood. Having a depth of 169.9 feet (60.02 meters) with 14 million liters of water, this deepest swimming pool of Dubai is recorded as the world's deepest pool in the Guinness Book of World Records.
Having a shape like a giant oyster as a nod to the area's pearl diving background, the place is fully featured with the present-day technology for divers. The pool additionally comes with state-of-the-art lighting, sound, and mood machine. Also thanks to the filtration device that circulates the pool's water via siliceous volcanic rock every 6 hours to keep the water clean.
The pool is maintained well and the sunken city has increased the rip-roaring fear of diving. But still, if you are a thrill lover, then Deep Dive has much more to offer you. Have year-round diving and get an unparalleled experience in a safe environment under the guidance of professional instructors.
Some amazing experiences that you'll have at this splendid place are:
LEARN TO DIVE IN UNUSUAL ENVIRONMENT
This indoor pool is not only for casual swimming laps and lounges on a floaty. Rather, it is like a modern-day dive center that allows you to learn scuba diving. The place permits people as young as 10 years old to discover their diving skills or to refresh them in such an incredible and marvelous environment.
If you like swimming and require thrill in swimming, then this deepest swimming pool in Dubai is perfectly the right choice for you. The place is thrilling and exciting like you can imagine an underwater city. Yes, you heard it right!
This Dubai's deepest swimming pool has a "Sunken City", the most exciting thing about this deep pool. The scene of unique swimming in such a horrible place is so hair-raising. Surely you don't wanna skip this boisterous experience that will give you riveting joy.
AWESOME THINGS TO DO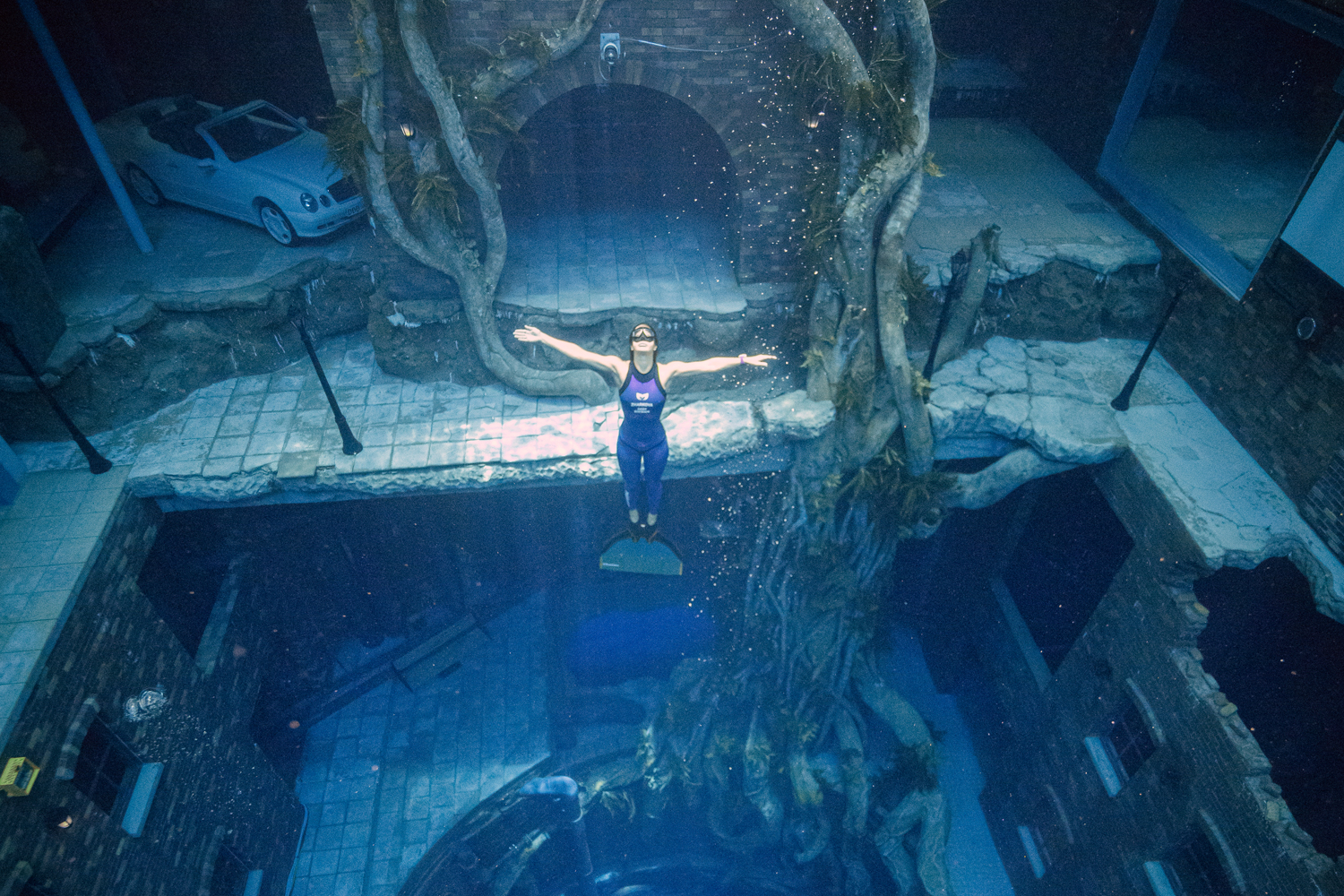 DISCOVER UNDERWATER DIMENSION
It's the best opportunity for thrill-seekers. You are free to wander at this place. Explore the underwater dimensions that are full of wonders and adventures. You can interact to various elements at this spot like
Cars
Telephone booth
Library
Bicycle
Chess game and other features.
SOME AMENITIES FOR NON DIVERS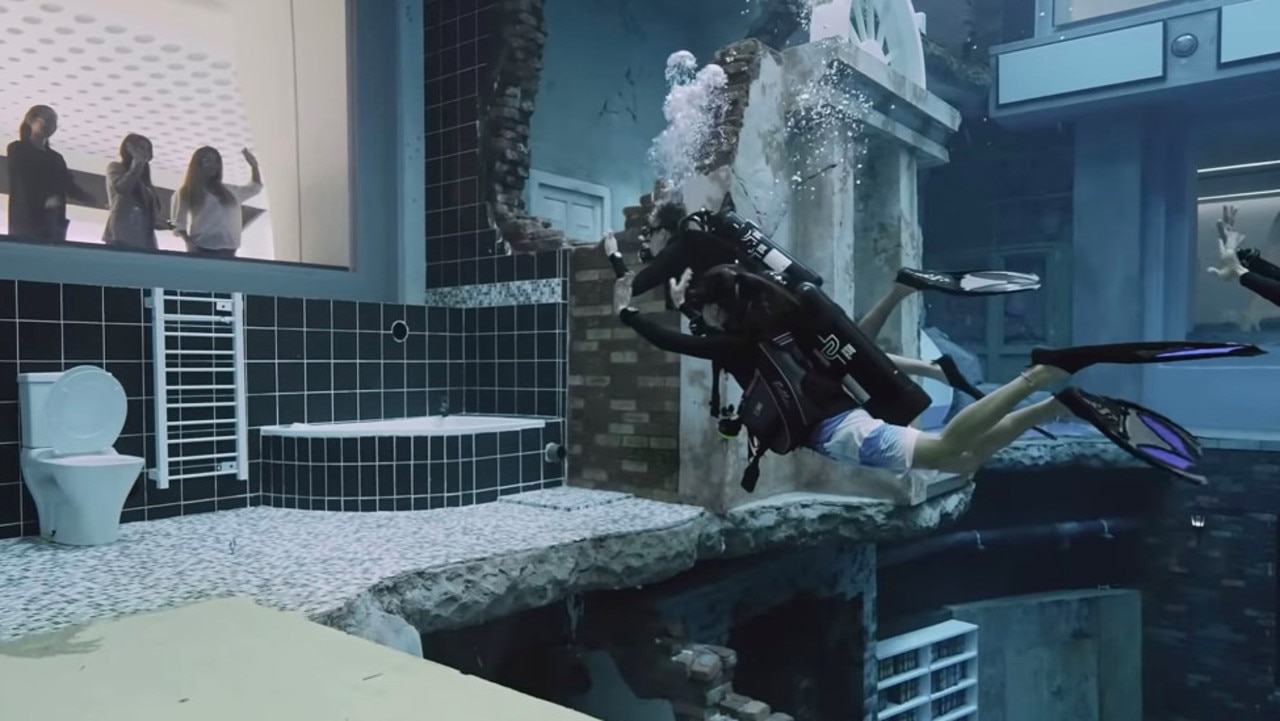 Regardless of the pool, the place where the pool is located is itself so amazing, refreshing and hypnotic. For the visitors who don't want to get wet and just want to check the scenes, there are several large windows that let nondivers peer into the underwater environment.
The pool contains more than 50 underwater cameras positioned throughout the pool that deliver the live feed on large display screens. The non-divers can see the swimmers wandering in the sunken city from outside.
WELL MAINTAINED RESTAURANT
For non-divers, an 80-seat restaurant is located that has windows for showing the internal view of the pool. The visitors can have a splendid dine-in with mesmerizing and hypnotic views of the pool. you'll get excited to see amazing places underwater. Also through windows, you can see your friends diving in the water.
WATER TEMPERATURE
Water temperature at this grand and auspicious pool is maintained at 30 degrees Celsius (86 Fahrenheit). The temperature is neither too cold nor too hot, just normal and suitable for wearing a thin wetsuit or a swimsuit.
PRICING
This amazing and enchanting experience is available at different prices. You can choose any package according to your choice and budget.
This newly discovered experience of snorkeling is starting at Dh400 with fins, snorkel, mask, and flotation vest for 1-hour diving.
1-hour guiding experience of freediving up to 100 meters underwater is available at Dh 1000 that includes fins, snorkel, mask, and a wetsuit, with a video of the experience.
A package at Dh600 is available for everyone ( newbies or experienced individuals) to free dive or scuba dive within specified limits.
12-meters diving with elements of the sunken city like a library, chess, and car is available for beginners as well as experienced divers at Dh 1500 with all diving equipment and a video of the experience.
A special offer that includes Padi Open Water Diving certification is available for Dh 3600 per person, inclusive of equipment rentals.
SOME PRECAUTIONS
It is recommended that the divers must not visit the top of the Burj Khalifa right after Deep Dive. If you finished your diving, wait for at least 18 to 24 hours before going on a height more than 300 meters (1000 feet). However, there is no risk of diving in such an incredibly deep place right after having visited the tallest buildings of the World.
Smith Jason is an expeditious traveler. His passion for travelling and adventures led him to write blogs about his experiences. Having traveled to UAE, Malaysia, Thailand and more destinations, he has got a lot of exciting stories to share with readers.